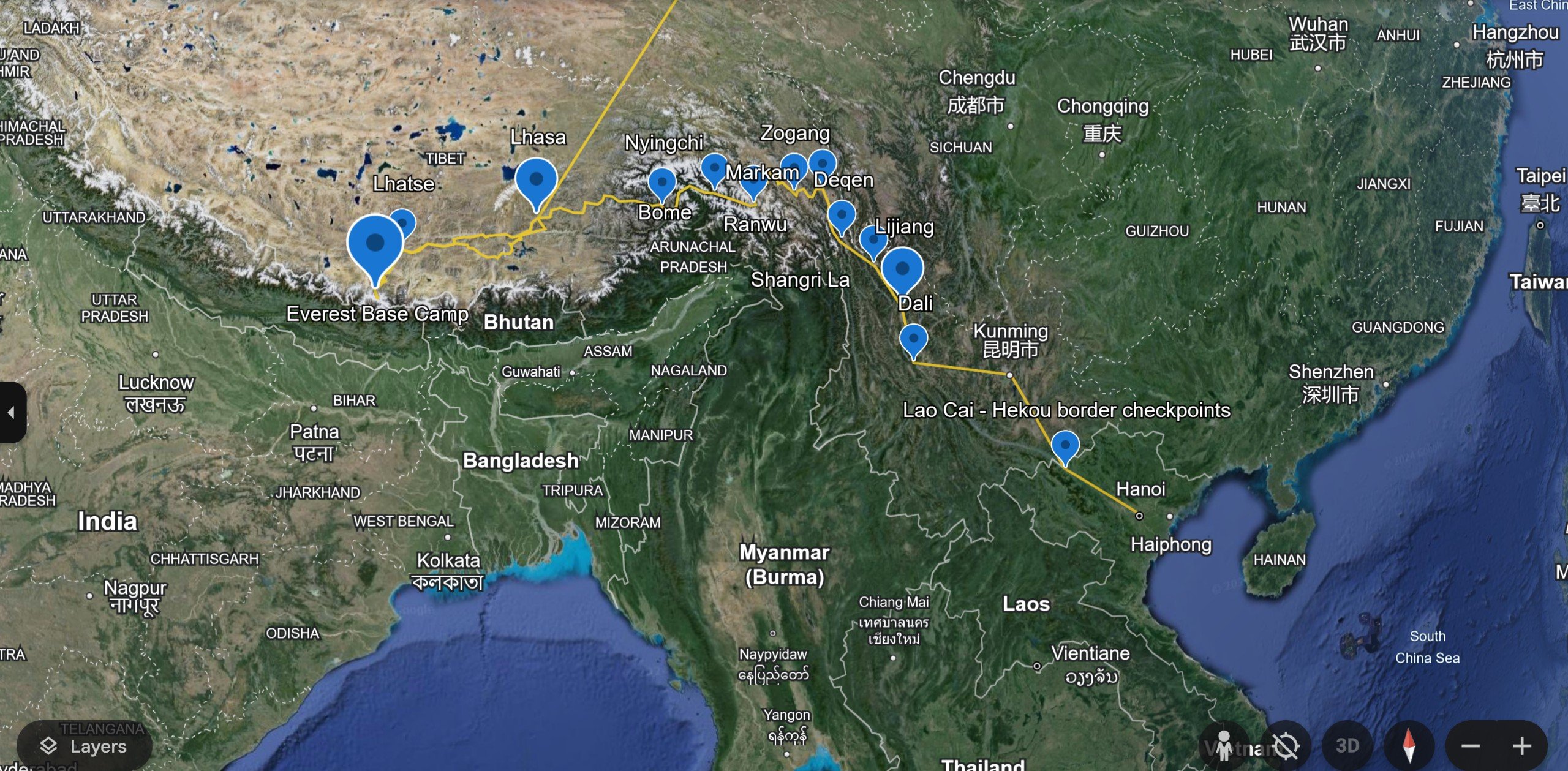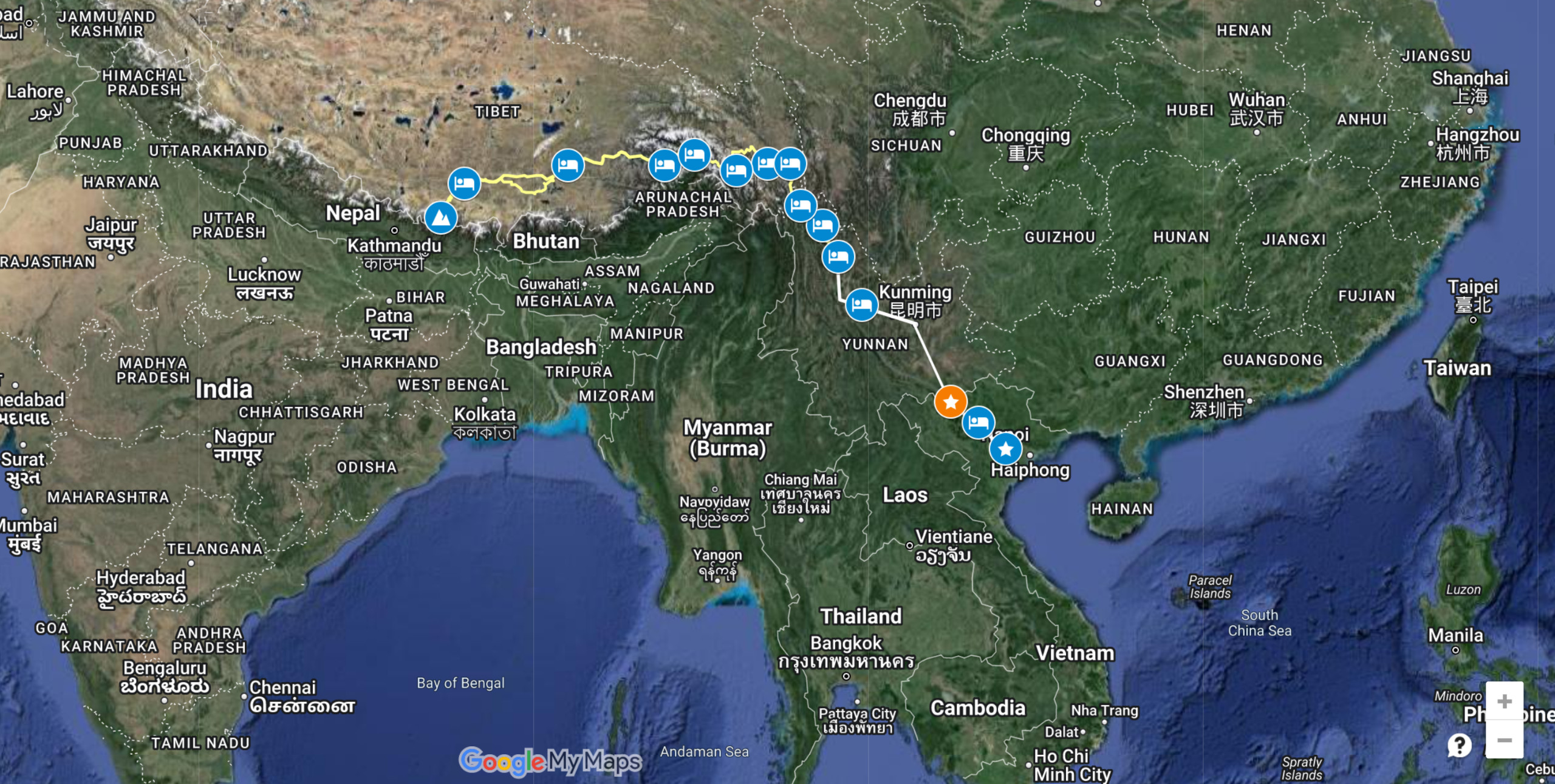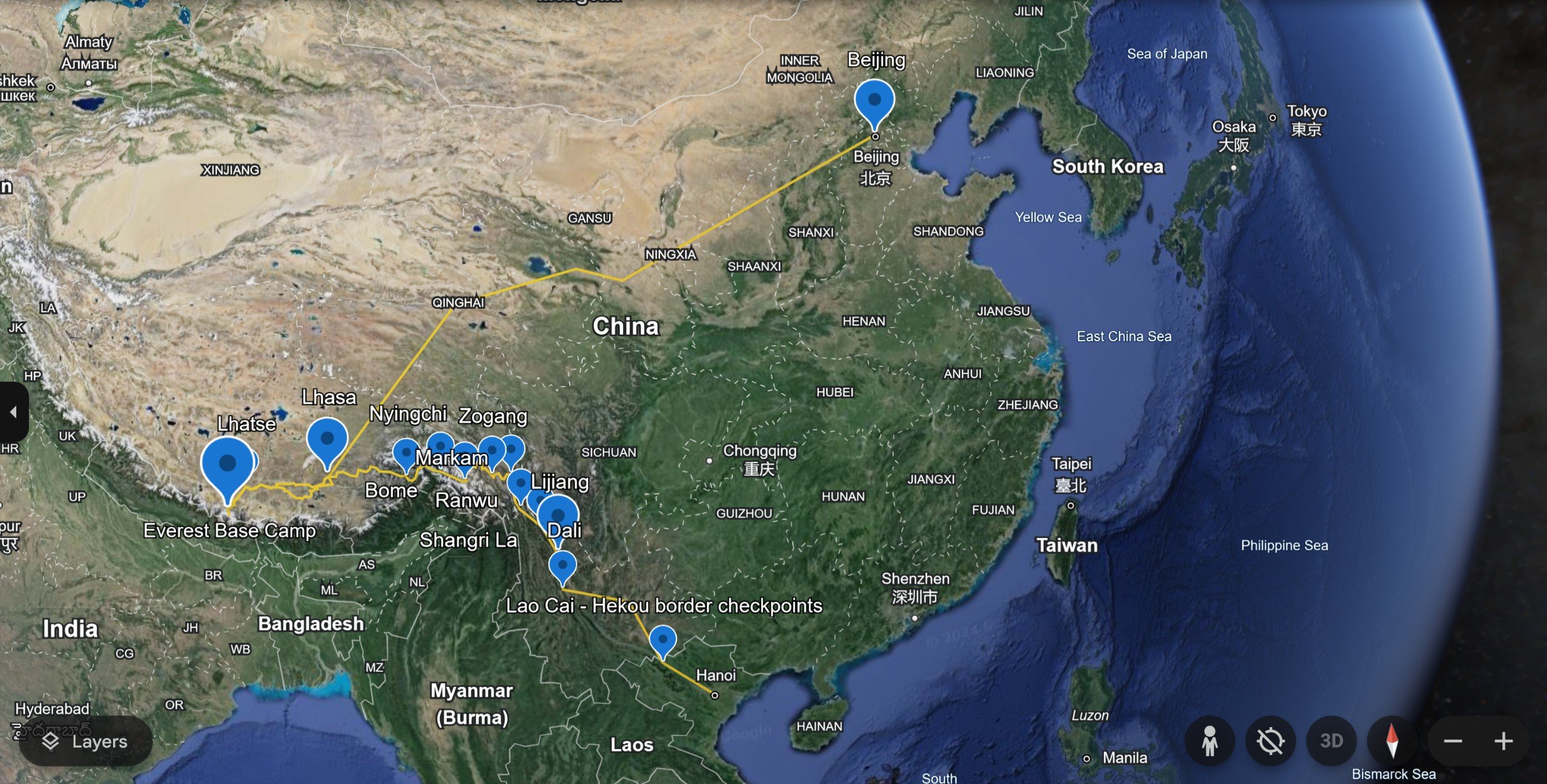 BMW Motorcycle Tour Vietnam - Tribes and Trails
North Vietnam motorcycle tours
BMW Vietnam motorcycle tours 14 days will take you to the remote and far northern of Vietnam riding a BMW Motorcycle through single trail, offroad, river crossing with lot of fun but will take lot of your energy but this is the best offroad motorcycle trip in Vietnam.
With 10 days riding, 2 days 1 night boat trip to visit Lan La Bay (the further North of Ha Long Bay) with less touristic give you time to relax and enjoy the World Heritage on your own way
Start/Finish
Hanoi/Hanoi, Vietnam
Nearest Airport
Noi Bai International Airport, Hanoi, Vietnam
Duration
14 days
Route
Mostly doesn't exit on Google maps
Accommodetions
Luxury
Rest Day
2 days Lan Ha Bay + 2 days arrival/departure + 1 free day in Hanoi
Riding Day
10 days
Highlights

- BMW Motorcycle tour Vietnam with R1200 GS, F800 GS, F650 GS and R1200 GS sidecars

- Single trails riding

- Remote villages

- No tourist

- River crossing

- Boat trip, bamboo rafts

Minium Number of Participants
5
This is the best of Vietnam motorcycle tour with the tour start/finish from Hanoi, ride to Ta Xua Reservoir then following the black river to ride to Sapa then conquor the border belt of Vietnam and China before heading to Van Don island to discover Lan Ha Bay
Day 1. Hanoi arrival

Our car and tour guide will pick you up at the air port and transfer to Hoa Binh Hotel – the first French Colonial Hotel in Indochina – after checking in to the hotel, it's your time to enjoy Hanoi on your own.

- Welcome dinner party

- Hoa Binh Hotel ***

Day 2. Hanoi - Tram Tau, 250km (100km transfer by car)

Our trucks have left the city in the early morning with all the bikes loaded in the trucks and transfer out to Tan Son villages and waiting for all riders at a coffee. - 7:00 AM our tour guide and a car will pick you up from the hotel and transfer to the bike meeting point with is about 120km from Hanoi. - 9:30 coffee time and prepare your bikes - 10:00 the adventure start The first day ride will be pave road with lunch stop in a local restaurant on road Early arrival to Tram Tau village, check in to hotel then we head up to Xa Ho village, a small H'Mong ethnic village on top of the mountain, offroad riding skill on BMW Motorrad test today

- B, L, D

- Suoi Tung Guesthouse

Day 3. Tram Tau - Muong La, 110km offroad

Today, it's the day. With only 110km but it could take hours due to the offroad with rock, steep hill climb, mud, single trail…with lot of fun The truck will not be able to follow the group and must take a long way around and can only meet us at the hotel in the evening. Muong La is a small village with is closed to Son La Hydro Station, the biggest Hydro Power dam in SE Asia, if we arrive on time then we will ride to visit the station.

- B, L, D

- Xuan Huong Guesthouse

Day 4. Muong La - Tua Chua, 175km (85km offroad)

In the morning we will ride through remote villages on the backroad to Pa Uon bridge and have lunch in a local restaurant next to the Black River. After lunch, the truck will have to take a long way around to the hotel. After lunch it's your fun, offroad up steep hill to the mountain plateau of Tua Chua for the night

- B, L, D

- Tua Chua Committee Guesthouse

Day 5. Tua Chua - Sapa, 200km (60km offroad)

A new day begin with offroad riding down hill to the Black River where we will push all of our bikes on local boat and enjoy 2 hours boat trip along the river. In the afternoon it's amazing drive through Tram Ton Passes where we can have a view of Fansipan Mt. The truck will have to take a long way around to go to Sapa and we can only meet the truck in the evening.

- B, L, D

- Sapa Charm Hotel ****

Day 6. Sapa - Xin Man, 180km (60km offroad)

After the breakfast at the hotel, we ride down hill to Lao Cai then follow a small road along China border before taking our own offroad over the mountain and ride to Bac Ha. In the afternoon we will ride to Xin Man where we stay in a small village with our local host family.

- B, L, D

- Homestay

Day 7. Xin Man - Lung Vai, 180km (100km offroad)

Ride over Gio Pass to Quang Nguyen village where there is an option for a single trail with offroad, big rock, river crossing then continue to ride on backroad to Nam Dich village for lunch. In the afternoon there are still about 70 km offroad and some small backroad Lung Vai village is a small village located on the side of Tay Con Linh mountain where the Dao ethnic live and we will spend the night in this small village with local people.

- B, L, D

- Homestay

Day 8. Lung Vai - Meo Vac, 160km (60km offroad)

A morning start with small single trail down hill to Ha Giang city then we will ride on small road where it will bring you to the most beautiful landscape of Vietnam, limestone karts of Dong Van Plateau. Rocky, offroad. If time permitted we will ride down to Nho Que river for a kayak or boat trip through Tu San Gorge then enjoying the sunset in the most beautiful pass in Vietnam called Ma Pi Leng.

- B, L, D

- Auberge de Meo Vac

Day 9. Meo Vac - Pac Bo, 180km (80km offroad)

In the morning we will ride for an hour and get the bamboo raff trip to cross the river, offroad riding along the border belt of Vietnam and China. In the afternoon we will ride the 14 curves pass of Me Pia before arriving to Pac Bo. Pac Bo is a small village located right at the border of Vietnam and China where uncle Ho after lived and worked in 1941 after 30 years exiles. This small village has a basic guesthouse but the atmosphere and villages are beautiful, there is a nature spring for swimming.

- B, L, D

- Local guesthouse

Day 10. Pac Bo - Huu Lien, 210km

There is an option for offroad but you also can take the main road to ride to Binh Gia where we will explore the untouched military cave, ride through this 2km long cave is a great experience. After lunch we will ride on small road to Huu Lien a beautiful village for the night.

- B, L, D

- Homestay

Day 11. Huu Lien - Lan Ha Bay, 220km

Early departure ride to the coast on small road and get to Cai Rong island in the middle day, finish our motorbike trip from here to avoid the busy traffic back to Hanoi. Our trucks will be waiting here to load all the bikes and transfer to Hanoi. When arrive to the island and leave the bikes for the trucks, we get on our private boat for lunch. The boat trip start cruising through Lan Ha Bay just further north of Ha Long Bay with no tourist. Kayaking in the sunset

- B, L, D

- Overnight on private boat

Day 12. Lan Ha Bay - Hanoi by car

Continue to explore the World Heritage site by boat and relax. After lunch the boat will drop us off to Cai Rong island again and where our bus will take us back to Hanoi.

- B, L

- Hoa Binh Hotel ***

Day 13. Hanoi free

It's your free time at leisure to explore Hanoi on your own

- B, Farewell dinner party

- Hoa Binh Hotel ***

Day 14. Hanoi departure

Free to explore Hanoi on your own until the time our bus will pick you up at the hotel and transfer to Noi Bai airport for your departure home

- B
Notice: B = Breakfast, L = Lunch, D = Dinner
Tour price per person
sharing room,
riding 2 up
sharing room,
riding solo
single room,
riding solo
F800 GS
$ 8500
$ 5197
$ 5799
R1200 GS Sidecar
$ 11961
$ 7999
$ 8499
What is including:
BMW F800 GS, F650 GS, R1200 GS rental with new offroad tires
All fuel for the ride
Transfer all the bikes out from Hanoi to Tan Son village for 120km for the first day by trucks
Transfer all bikers from Hanoi to Tan Son village for 120km by car for the first day
Transfer all the bikes from Cai Rong island to Hanoi on the last day by trucks for 220km
Transfer all bikers from Cai Rong island back to Hanoi after the boat trip for 220km
01 truck with driver or 16 seater VAN with driver follow the group for luggage and passengers
Airport transfers to the hotel in Hanoi and departure for last day (pickup and drop off)
Private boat trip for 2 days 1 nights in Lan Ha Bay (chartered boat)
All meals as mentioned in the itinerary above (only accept when enjoy free time in Hanoi)
All accommodation with single room at guesthouse, shared twine room at hotel, share large house at homestay
All permits for restricted area, border belt area
All sightseeing ticket and admission fees
All boat trip during the motorbike tour, bamboo raff trip…as mention in the itinerary
All snacks, coffee, water during the trip (accept in Hanoi, on boat in Lan Ha Bay)
Specialized mechanic from BMW Motorrad Hanoi on his own BMW
Experience offroad tour leader on his own BMW
What is not including:
Personal insurance that cover accident when driving a motorbike in Vietnam
Some meals in Hanoi at the days with free time at leisure as itinerary
Any damage to the bike due to the fault of rider
Tips, beers or alcohol drinks
YOU NEED TO KNOW BEFORE SIGNING UP THIS TRIP
Please be acknowledged that Vietnam doesn't have insurance for the bike or for any accident on the bike so if you are involved to the accident, you will have to pay yourself (or your insurance company) and pay to the 3rd party person (or your insurance company)
It is required all driver must have an International Driving Permit + your country Driver License for driving legally in Vietnam and also your insurance company required.
We ask for a deposit of 5.000 USD/bike (credit card or PayPal) for the bike incase of damage and this will be refund after the trip
We can get personal insurance for any biker on request from World Nomads so let us know in advance if you need one.
This trip could be also for family and children who may join, none rider (passenger will seat in the 16 seater VAN). If there is no passenger on the trip then a truck will be following the group instead.