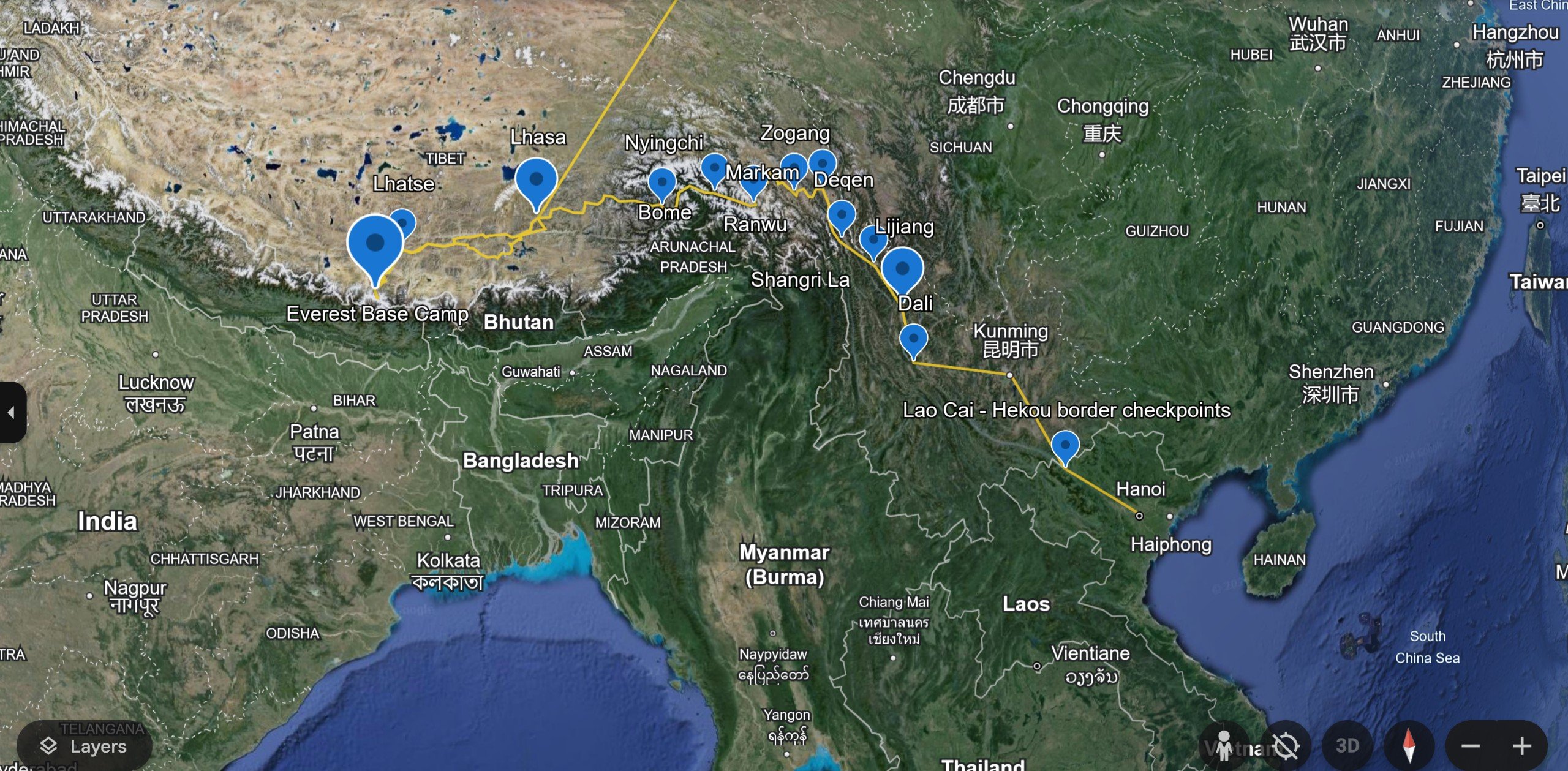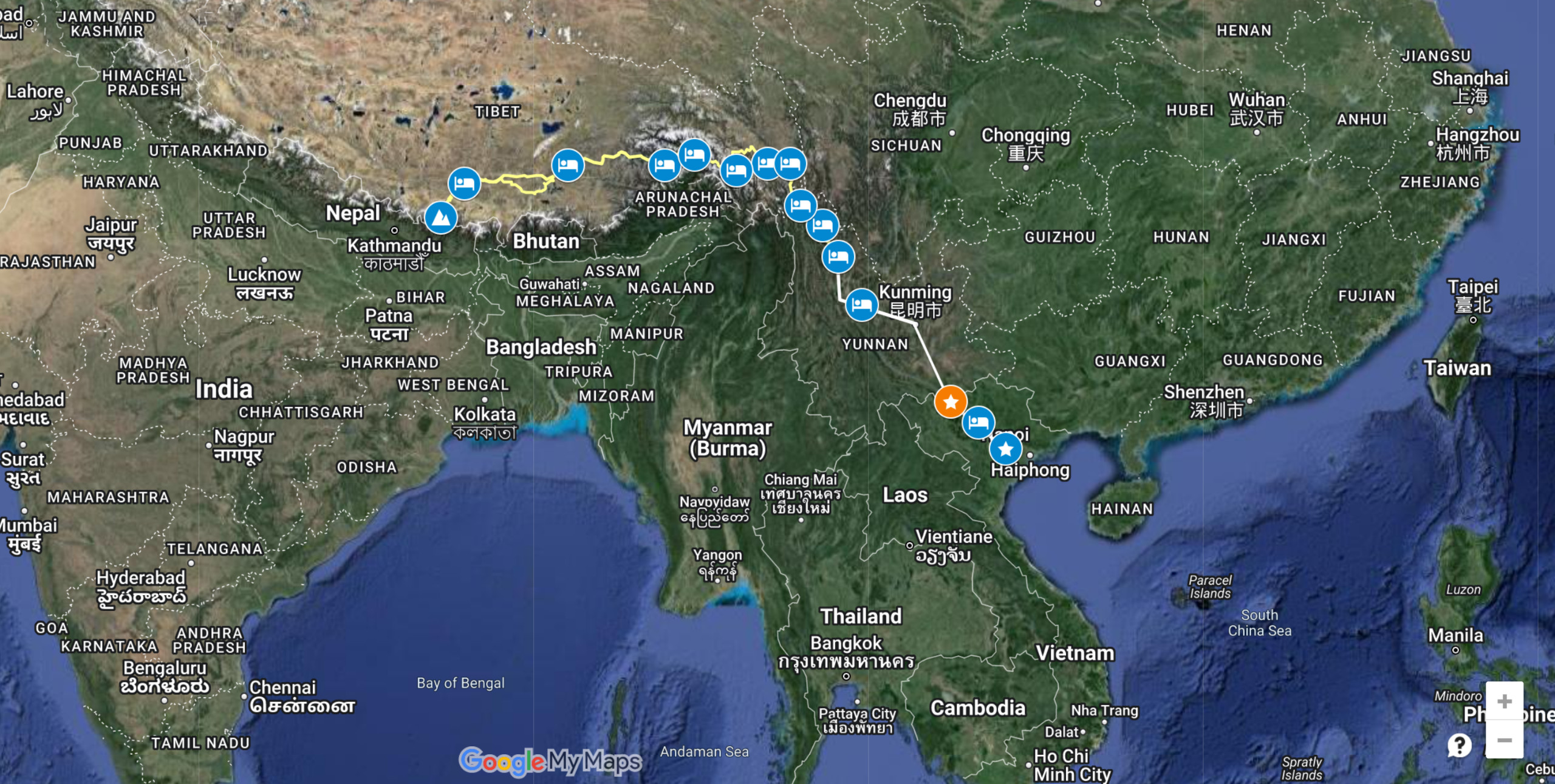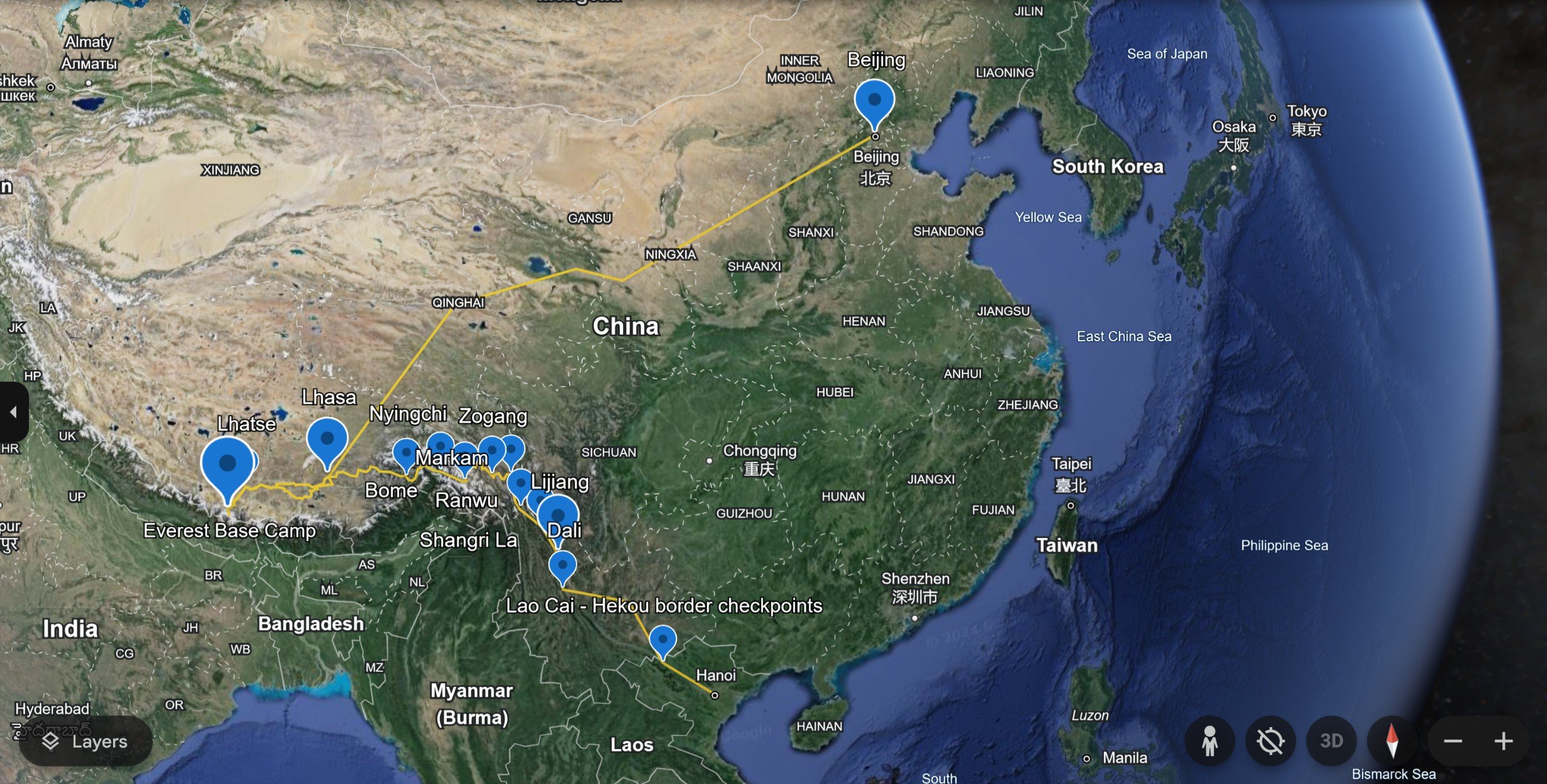 The Loop Ha Giang Motorbike tour
Ha Giang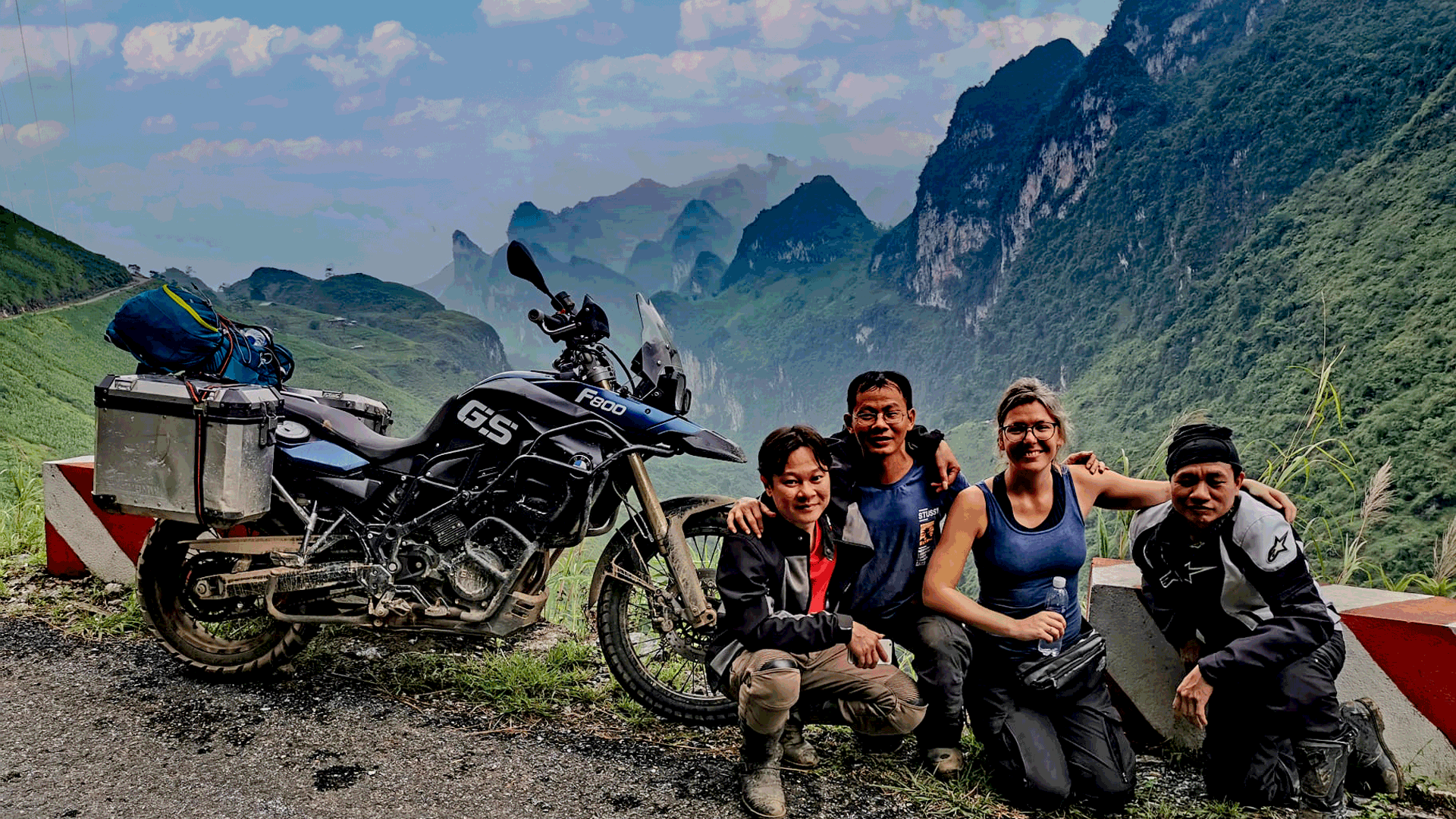 Ha Giang loop is the most famous motorbike road in Vietnam, the loop is easy, and many riders just rent a scooter to hang around for 2-3 days and then return to Ha Giang. Almost everyone follows the same road from Ha Giang city to Quan Ba Pass then take a shortcut to Yen Minh for the Tham Ma Pass. Those are the highlights of the road to Dong Van, some people may have more time to travel up to Lung Cu Flag Tower and Ma Pi Leng Pass will be the most beautiful with a spectacular view of the Nho Que River, and many people doing this boat trip. The return road to Ha Giang with Du Gia is the must-stay village before returning to Ha Giang.
MotoTours Asia doing The Loop Ha Giang in a different way by taking an overnight train to Lao Cai then following the border belt with China through a remote area, exploring the wild land of Lao Cai and Ha Giang with a beautiful rice terrace of Si Ma Cai, Bac Ha, Xin Man and specially the Ban Phung of Hoang Su Phi district. With our experience, "The Loop of Ha Giang" for motorbiking will be a small road to avoid the busy main road or regular tourist road will take you deeply into local lives then we will explore Ba Be National Park before returning to Hanoi.
Start/Finish
Hanoi/Hanoi
Nearest Airport
Noi Bai International airport
Duration
5
Route
Hanoi - Lao Cai - Si Ma Cai - Xin Man - Ban Phung - Hoang Su Phi - Ha Giang - Dong Van - Ma Pi Leng - Nho Que River - Ba Be National Park
Accommodetions
Mixed of 3 star hotel and homestay
Rest Day
0
Riding Day
4
Highlights

- The Loop motorbike tour Ha Giang

- Overnight train Hanoi - Lao Cai

- Ban Phung rice terraces in Hoang Su Phi

- Ma Pi Leng Pass

- Ha Giang Global Geo Park

- Boat trip in Ba Be National Park

- Join the traditional dance in the village of Tay ethnic

- Many different ethnic such as Tay, Nung, Dao, H'Mong, La Chi...

Minium Number of Participants
5
1. Hanoi - Lao Cai by train
2. Lao Cai - Si Ma Cai - Xin Man - Ban Phung (Hoang Su Phi)
3. Hoang Su Phi - Ha Giang - Dong Van
4. Dong Van - Ma Pi Leng Pass - Nho Que River boat trip - Ba Be National Park
5. Ba Be - Hanoi
Day 1: Hanoi arrival, night train Hanoi - Lao Cai

Our bus will pick you up from Noi Bai International Airport and transfer you to the hotel in Hanoi, after checking in to the hotel, it is your own time to explore the old quarter of Hanoi.

18:30 your tour guide will come to the hotel and take you out for the welcome dinner.

21:00 get a taxi to the train station where we delivered all the bikes earlier into the carriage.

22:00 the train departs, it is great for you to experience the old train system in Vietnam, it was built in the 19th Century by the French and nowadays it is still running.

- Welcome Dinner

- Mango Hotel

Overnight train AC luxury sleeper 4 beds/cabin

Day 2: Lao Cai - Si Ma Cai - Xin Man - Ban Phung, 200km (125mile)

6:20 the train drop you off at Lao Cai train station, unload our bikes, pack, and ride to get fuel before having breakfast and a coffee right at the Red River looking to the other side - China.

8:30 we follow the border belt with China to ride through the very remote area of Muong Khuong and Si Ma Cai with spectacular scenery of the limestone kart mountains and the Chay River. We will make many stops for the scenery and visit ethnic villages.

After lunch at our friend's family in H'Mong village, we will drive to Bac Ha then turn left to follow the Chay River then cross the bridge to ride to Ban Phung village with famous rice terraces made it famous for Hoang Su Phi district of Ha Giang. Learning about La Chi ethnic culture and also the history of the border war 1979 in the area.

- B, L, D

- Homestay La Chi ethnic (private use for our group)

Day 3: Ban Phung - Hoang Su Phi - Ha Giang - Dong Van, 270km (168mile)

Follow the old road the military used to avoid the main road riding through the forest, rice fields, and ethnic villages to Ha Giang city for lunch.

After lunch, we will explore the quiet road running through Dong Van International GeoPark to avoid the main road with always busy with many riders doing the Ha Giang Loop. The scenery is spectacular and there may not any camera or any writer who can describe the beauty of the area. We will make many stops for pictures so early departure after lunch is needed.

- B, L, D

- Hoa Cuong Hotel ***

Day 4: Dong Van - Ma Pi Leng Pass - Nho Que River - boat trip to Ba Be National Park,180km (112mile)

In the morning, we will conquer the Ma Pi Leng Pass with the spectacular scenery of Tu San Gorge in Nho Que River. Ride down to the river for a boat trip and then head down to road 34 riding along Gam River with beautiful scenery. We will have lunch at Pac Miau town and then we will turn on a small road through a remote area and then arrive at Nang River where the boat is waiting for us for our boat trip to explore Ba Be National Park in the sunset.

- Hoanh Tu Homestay

Day 5: Ba Be National Park - Hanoi, 220km (137mile)

After the breakfast at the family, we will follow a small road through the forest to ride to Dinh Hoa and then drive to Dai Tu for lunch.

In the afternoon, we will drive to explore the Northeast part of the Tam Dao mountains then going to Dai Lai Lake to return to our garage in Hanoi.

- B, L
1. Tour deposit:
To confirm your booking, we ask for a deposit of 50% of the tour price into our bank account.
2. Tour Payment:
4 weeks before the tour starts.
3. cancellation: If you deposited for the tour but must cancel.
4 weeks before the tour starts: we will return 100% of your deposit amount.
4 weeks to 2 weeks before the tour starts: 50% of the deposit will be refunded.
Less than 2 weeks before the tour starts: no refund.
During the tour if some out leave the group: no refund.
Our prices depend on the number of clients in the group, the price in this table are based on 5-6 people/group. If you are from a group of more than 6 people, please contact us for better prices.
If you don't know how to drive. Never mind, contact us for pillion/passenger prices
WHAT IS INCLUDED IN THE PRICE?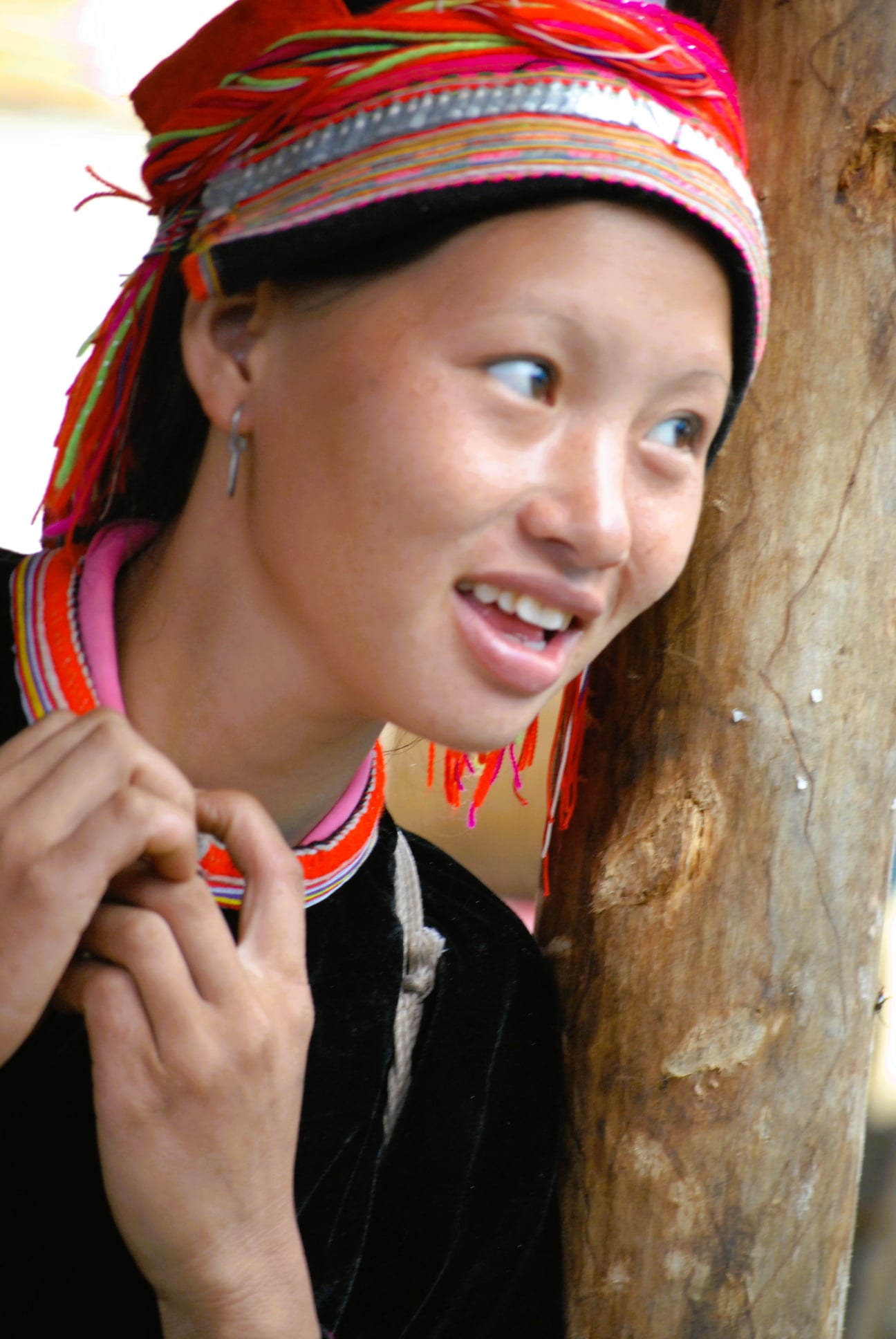 - All meals during the stay in Vietnam.
- All accommodation as mentioned in the itinerary or similar (depending on the time tour confirmed): no private room available at the homestay.
- Experience tour guide leader (English – French – Vietnamese) riding his own bike.
- Single entry visa on arrival for Vietnam (if needed).
- Motorcycle rental as mentioned in the price details.
- All fuel needed for the ride.
- Transfer all the bikes from Hanoi to Lao Cai by train
- Overnight journey in a luxury carriage by train for the clients from Hanoi to Lao Cai.
- Return airport transfers (from Noi Bai international airport to the hotel in Hanoi and back after the trip).
- Support truck for luggage, cooking, and picnic equipment during the motorbike trip.
- 2 hours boat trip in Ba Be National Park.
- ll sightseeing tickets during the motorbike tour.
- All admission fees, and permit for any restricted area during the trip.
- Traditional dance at the homestay in the Tay ethnic
- An experienced chef coming along on the truck to take care of the meals during the trip, making our own picnic lunches sometimes), and prepare all breakfast at homestay.
- Picnic and cooking equipment for picnic lunches
- A Coffee machine comes along with fresh Arabica coffee to serve you all daytime.
- All breakfast with fresh fruit juices, coffee…
- Fresh water – bottled provided in our support truck for unlimited.
- Rice-wine for dinners
PRICES NOT INCLUDING:
- Almost everything is included in the tour price, you just need to pay one and enjoy the trip without digging into your pocket during the trip.
- International airfares, personal insurance for motorcycle accidents in Vietnam, personal expenses, and tips for the guiding team are not included in the price.
Stage 1

31/08 ~ 04/09

National Holiday 2023